As a software and digital product tester, I test digital products and hosting services. For this purpose, I have recently tested Liquid Web.
This web hosting assisted over 30,000 companies in 150+ countries, including renowned brands.
Liquid Web offers a variety of hosting options, such as dedicated, reseller, VPS, and WordPress, cloud hosting.
Have you read any of my previous articles about other hosting services like EasyWP, Nexcess, and Network Solutions?
In that case, you probably know that in my review, I cover the features of web hosting, the pricing plans, the ups and downs of the hosting service, and whether it suits you.
So, if you are excited about the review of Liquidweb, stay with me.
About Liquidweb
Liquid Web is one of the big names in the hosting industry. The speciality of this is its VPS and Cloud hosting.
So you must have heard their name once or twice if you ever want to buy hosting services because they are well-regarded for their premium hosting solutions.
When I went to test the Liquidweb, I found out it's actually only for some beginners. Why am I saying this? Because Liquid Web's hosting is notably expensive.
If you compare this with other hosting services like KnownHost and others, it charges more for its hosting.
Because its target audience differs from others, it targets businesses that want reliable and premium hosting for their website.
I always learned a little about the history of the hosting company I was testing. I have found out that the company was founded in 1997 by Jim Geiger.
This person has a vision to create the most loved hosting provider globally. As a result, Liquid Web now serves over 45,000 customers in 150+ countries.
Not only this, the company has received the Inc. 5000 Fastest Growing Companies award for nine consecutive years. All because of the dedication and the vision of the founder of the company, Jim Geiger.
Moreover, another renowned hosting service provider is Nexcess, which Liquid Web also owns.
The organization prioritizes customer-centric tactics while focusing on the needs of small and medium-sized businesses.
So, as I told you earlier, Liquid Web specializes in fully managed VPS and dedicated server solutions, which makes it a more advanced hosting option.
If you need this type of advanced hosting option for your website, you can think of Liquid Web.
Liquid Web Offerings
While researching Liquid Web Hosting, I learned that they are known for providing fast and high-quality customer assistance.
Later in this article, I will discuss their customer service in detail. People who are using Liquid Web's hosting servers give priority to speed, performance, and security.
This web hosting service provider offers hassle-free hosting solutions with optimized servers to provide the best speed.
Nowadays, most of the sites are built on CMS. So, what are the offerings of Liquid Web if I want to use CMS?
The answer is that they offer specialized hosting for popular CMS like WordPress and WooCommerce.
Also, you will get access to premium business email, which will help you build your brand identity.
Although most of the good web hosting like FastComet and ChemiCloud also offer this type of solution. So, these offerings don't make them an exception from other hosting providers.
So basically, Liquid Web is suitable for enterprises. But the thing that makes them unique from other hosting services is that they also offer affordable plans for all users seeking top-notch hosting services.
This information was a massive blow for me because it cleared all my misconceptions.
But do not get excited to get cheap premium hosting because their plans are cheap compared to their offerings but not that cheap for beginners. So, its pricing plans are not beginner-friendly.
The company manages its own data centers. So it's obvious they have full control over them, and as a result, you can expect continuous improvements and better service from them.
These are the summary of Liquid web hosting services now; let's see its full features and other essential things about it.
Fully Managed Hosting
It's a dream for most website owners to get a hosting service that they don't need to do anything to manage.
Liquid Web makes this dream come true. Because it offers fully managed web hosting. It handles all aspects of website management for users.
This management includes regular software updates and security patches. With this feature, they also ensure website speed and prevent security compromises.
It's a pretty decent feature to talk about. I love the way they manage their hosting services, and it's exceptional compared to other hosting.
So, why am I calling this unique with this little offering? Because there is more to talk about this feature.
First of all, we all know how important it is to update WordPress plugins regularly.
So, to help you with that, they offer nightly WordPress plugin updates in a specialized testing environment. As a result, it will safeguard you against vulnerabilities and downtime.
Liquid Web Speed Test
I heard pretty good news that the Liquid Web VPS plan offers impressive speed and uptime. I built a simple WordPress website with a demo theme for test purposes.
After that, with the GTmetrix website tester tool, I tested Liquid Web hosting multiple times to get accurate results. My demo website loaded in under one second.
Then, I decided to test a heavier site to see the actual result. So, I built a heavy site with lots of content and images.
When I tested my heavy demo site, it took only 1.4 seconds to load. I was surprised to see the results.
During these multiple tests with GTmetrix, I got the average complete page load time on Liquid Web's hosting, which was around 1.6 seconds.
Liquid Web Uptime Test
Now it's come to Liquid Web hosting uptime. The company claims that it offers a 100% uptime guarantee.
I didn't see any other hosting provider offering 100% uptime. It's actually a rare feature in the hosting market.
When it comes to uptime, Liquid Web is better than any other hosting provider because they offer compensation for server unavailability, with 10 hours of credit for every hour of downtime.
But there are always some specific clauses related to hardware maintenance and third-party DDoS attacks, so maintaining 100% uptime is a nearly impossible thing.
I decided to test its uptime with my demo site. I tested it for three months. Liquid Web's VPS hosting achieved a flawless 100% uptime record during this testing period.
Because of this, I was surprised, and I couldn't believe the result at first. How on earth are they providing such a great uptime?
So, there is no competition for liquid Web when it comes to uptime and load speed.
Support
Liquid Web offers 24/7 customer support through email, live chat, and phone. It's a common thing, and all the hosting providers do this.
But my personal experience with its customer support could be better. First of all, their live chat isn't available for Nexus-managed WordPress hosting.
While I tested my demo site on their hosting, I faced issues with viruses. So, I contacted their customer support.
When I contacted them, they responded to my message fast. So when I told them about my virus issue, they told me that they would scan the site for me. Unfortunately, it failed to deliver the malware report.
Their response time is good, but I need clarification about their problem-solving capability. So, if you need a lot of customer support managing a website, it isn't the best choice.
Rather, you can go for another hosting like Nexcess. Liquid Web's live chat support was really fast, with an average response time of about 1 minute and 11 seconds, even though it had some limitations.
So, if you ask me, their customer service is similar to some cheap web hosting companies. If you take a look at the price of their hosting, this kind of customer service is unacceptable.
But from some reliable sources, I learned that they are trying to upgrade their customer services.
Control Panel
One standout feature of Liquid Web is the diverse selection of control panels, including Plesk, cPanel, and InterWorx.
No other hosting in the industry offers such flexibility on the control panel. You can choose between Linux versions like CentOS and AlmaLinux or opt for Windows servers, but you need to pay more.
As a result, you will get a high degree of customization options on your website. Because of the professional control panels, beginners cannot easily handle this control panel.
The control panels, like InterWorx, work well for tasks like file uploads, CMS installations, and resource management for persons with technical expertise.
However, there is still room for improvement in their control panel. I have noticed some oversized elements and awkward button placements.
But these are my personal thoughts because there are people who might like these things.
Robust Security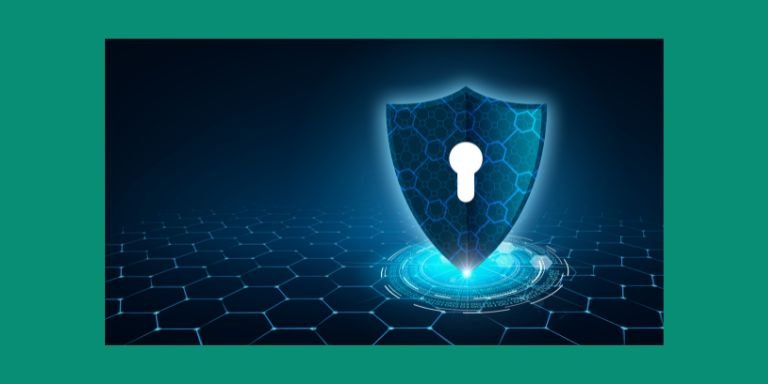 When it comes to hosting your website, security is the main factor for most of us. The good thing about Liquid Web is that it is trying hard to safeguard your online presence.
So why am I telling them they are trying hard? Because they are implementing advanced measures to protect your server.
Here is a short review of their security system. Standard DDoS Protection monitors traffic and protects your server from sudden and potential (DDoS) attacks.
As a result, if your site faces a traffic spike, this defense mechanism will ensure that your website remains accessible and responsive.
Liquid Web offers a ServerSecure Security Package. With this protection package, Liquid Web covers your back by protecting your site from common risks like virus malware attacks.
Integrated Firewall: Liquid Web offers an integrated firewall that you can activate directly from your user dashboard.
Though it's a common security feature, it's an effective one. You are all aware of how this firewall acts as the first line of defense.
If you don't know, let me tell you about this firewall that filters out malicious traffic before it reaches your server. Most of the web hosting services offer this type of firewall for server protection.
So, when I was testing their security system, I had some issues with the SSL certificates. After that, I found out that I needed to manage the SSL certificates of my website. It wasn't very pleasant.
Despite having to pay such a high price, managing your SSL certificates on your own is pleasing. They don't offer automatic installation of these certificates.
Managing and installing SSL manually needs technical knowledge, and only some are capable of doing these things.
Other hosting like Hostinger or Cloudways is far better in this sector because they offer automatic SSL certificate installation. So, this is a sector where Liquid Web needs to make improvements.
Backup is another part of the security system. After a disappointing experience with SSL certificates, I went to learn about the backups of Liquidweb.
So, it takes care of server backups, ensuring the safety of your data. So, this hosting service provider is doing fine in this sector.
I don't see any exceptional security features in Liquid Web, but there are many manual and semi-automatic options to ensure your website's security, like Application Security.
In this option, you need to set up and configure a web application firewall to fortify your online presence.
Fastest WordPress Hosting
Nowadays, most people are using CMS like WordPress to build their sites. Isn't it good to have a web hosting service that offers the fastest WordPress hosting in the industry?
First, I learned that Liquid Web stands out as a top-notch provider with a focus on speed. It is the world's fastest WordPress hosting.
Liquid Web claims that its hosting platform is engineered for speed. Unlike some competitors that rely heavily on caching, Liquid Web prioritizes concurrent requests.
This means if you own a dynamic WordPress site, you can expect blazing-fast load times.
So how can I be sure that they offer such great speed? Because of the action they have taken to take the speed of the WordPress website to the next level.
They offer the highest number of PHP workers per dollar compared to other hosting providers.
As a result, it became an excellent choice for websites that want proper speed. As I mentioned earlier in this article, Liquid Web offers fully managed WordPress hosting.
Because of this, you can manage your WordPress site without any hassle. It also offers some premium features, plugins, and other facilities to boost the speed of your WordPress site.
Free Site Migration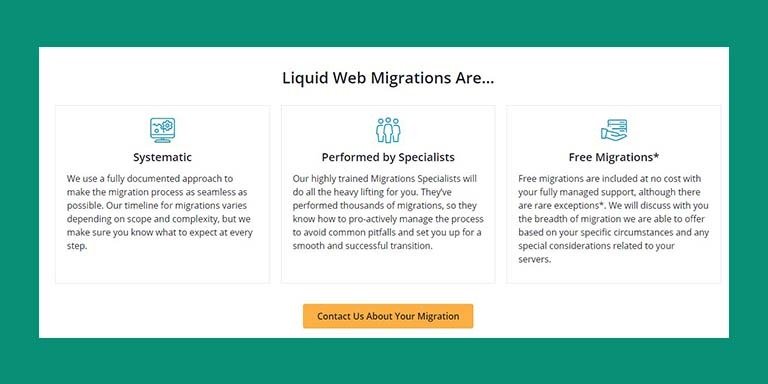 It's a common feature. Hosting service providers offer this kind of service to attract customers. Popular hosting names like Network Solutions and Hostinger also offer this.
Liquid Web also offers free site migrations. But the good thing about their system is that the experts of Liquid Web will assist you in performing the site migration for any reason.
They will do most of the work of site migration. But if they fail for some reason, they provide support to assist you in the process.
This free site migration service of Liquid Web is very important. Except for the big names like Hostinger, most providers either require users to handle migrations themselves or charge a significant fee for assistance.
But here, you will get both free migration with professional assistance. Although I didn't personally use this feature, from reading several reviews on Trustpilot, I learned that this migration process is easy and useful.
Pros and Cons of Liquid Web
Here, I will talk about the pros and cons of Liquid Web hosting. I have tried to cover the most important factor of it.
Pros:
Super speedy hosting optimized for quick page loads.
There are no plugin limits, offering flexibility for WordPress users.
A 100% uptime guarantee, ensuring website reliability.
Outstanding "Heroic Support" with 24/7 availability.
Cons:
Liquid Web does not offer shared hosting plans, limiting options for those seeking shared hosting.
There is no money-back guarantee, which may be a concern for some potential customers.
Liquid Web's hosting plans tend to be higher in cost compared to some other hosting providers.
My Personal Recommendation
After using Liquid Web for testing purposes, there is nothing like Liquid Web if you want speed and uptime.
Its optimized hosting is good at providing the best speed possible. It is undoubtedly one of the best hostings I have ever tested in terms of premiums and speed.
Also, it comes with a lot of customization options. From the control panel to buying the hosting, you can customize it in many sectors.
As a result, professionals get more flexibility. I love this customization option. With these customization options, they offer fully managed hosting. So it will make your work easy.
Plus, I like to use CMS to operate my website. Offering CMS-friendly features is also a plus point of liquid Web.
They offer the world's fastest WordPress hosting with no plugin limits, which offers flexibility for WordPress users. But the main downside of it is that it won't offer you a money-back guarantee.
When everyone in the market offers this, why not them? I wouldn't say I liked this thing at all about Liquid Web.
Popular web hosting providers like Network Solutions or StableHost offer a no-question money-back guarantee. It's a big big drawback for Liquid Web. And I also need some help with its security and customer support.
Despite having some issues, it is still one of the best hosting services, and if you are an experienced professional, I suggest you try their hosting service.
But I don't recommend this to beginners because using their hosting service properly will take a little bit of technical knowledge.
Why Should You Use Liquid Web?
If you want to know why you should use Liquidweb, my first answer is that it offers Top-Notch Performance.
Liquid Web's hosting infrastructure is optimized for speed, making it an ideal choice for websites that prioritize quick page loads and responsiveness. So, if you are in need of speed, there is no better option than this.
If you are a WordPress site owner, there is also a very big reason to use this as your hosting service because Liquid Web imposes no limits on the number of plugins you can use.
This freedom allows you to customize your website to your heart's content. With 100% uptime, industry-leading speed, and customizable options, it's one of the best hosting services one can buy.
Last Thoughts
Basically, Liquid Web is one of the best hosting service providers in the market now. With some ups and downs, it's a good choice for professionals.
If you are interested in buying their hosting, I hope this article has helped you.
FAQ | Liquid Web Review in 2023
Is Liquid Web legit?
Yes, Liquid Web is a legit web hosting provider company. And it offers 100% uptime.
What is the revenue of Liquid Web?
Liquid Web is a big company, and gaining a huge amount of revenue is pretty easy for it. So, from the recent report of 2022, the revenue of Liquid Web is $113.4 million.
Where is Liquidweb located?
The first data centers and Liquid Web headquarters are in the US-Central region. They currently run two entirely owned data centers in this area, both of which are in Lansing, Michigan.
Does Liquid Web own Nexcess?
Liquid Web and Nexcess are both owned by the same company. When Nexcess worked with the company in 2019, it became a Liquid Web brand family member.
What type of company is Liquid Web?
Liquid Web is a web hosting service providing company. This company is well known when it comes to providing fully managed hosting.
Is Liquid Web free?
No, Liquid Web is not free. There is no such option of a free trial or anything like that.