If you are looking for the cheapest and best-managed WordPress hosting services, then the best option for you is EasyWP.
EasyWP is an all-in-one managed WordPress hosting solution. This is the best solution if you are a beginner and want to create your WordPress website.
Now you can ask why I am telling this much good about EasyWP. Because I am using EasyWP hosting for one of my business websites, and I am satisfied with their service.
Below, I write about the EasyWP review and its features and offerings. If you want to know more about EasyWP, stick with me.
About EasyWP Hosting
The first attractive thing about EasyWP is that it is a popular website creator and hosting service chosen by 40% of web users.
First, I was surprised by seeing these numbers. However, the fact is that WordPress is the most popular CMS, and EasyWP is specially designed for WordPress, so EasyWP is the first choice for many WordPress users.
After knowing that, I was curious and researched what type of hosting service they provide. I have found out that it offers true cloud technology for a set-and-forget experience.
This is specifically optimized for WordPress, making it suitable for WordPress websites. After knowing this, I decided to buy and test their hosting.
So I started to read the reviews about it and found out. The infrastructure of EasyWP is designed to ensure uninterrupted website performance and growth.
Now I will tell you some shocking news. If you are trying to buy hosting and researching about it, you will definitely know the name of Namecheap.
Namecheap is a well-known hosting service provider. EasyWP is one of Namecheap's hosting services, with a focus on simplicity and affordability.
So it makes me feel that there is no option to question its authenticity and service because there is a significant and reliable behind it.
This hosting service is ideal for small businesses and newcomers to website development because this is cheap and reliable.
The thing I like about EasyWP after purchasing it is that EasyWP guarantees a quick WordPress installation in just 1.5 minutes.
Its price points offer incredible features like a user-friendly dashboard, SSL certificate, and 24/7 customer support.
The thing that makes me fall in love with EasyWP is that it is a fully managed version of the WordPress platform.
It has the capability to handle tasks like SSL, CDN, caching plugins, and backups. Now, let's see some features and offerings of EasyWP.
EasyWP Hosting Key Features
EasyWP offers tons of features that are unthinkable at its price point. I love the options and features of EasyWP. Now let's see some features I love about it.
User-Friendly Dashboard
The first thing I like about purchasing their hosting service is their dashboard. EasyWP offers a very simple, user-friendly, and straightforward dashboard.
From their dashboard, I quickly created new websites without a new account. It's a pretty good thing and helpful for beginners.
They offer direct access to the WordPress dashboard from the hosting dashboard, which is pretty convenient and time-saving.
So, getting some vital information organized in a dashboard is a helpful feature. From its dashboard, I was getting an overview of the WordPress version, storage, plan details, and expiration.
I think this is pretty good and helpful. Beginners often get confused and locked up when it comes to setting up a new domain.
But in the dashboard, there is a domain tab where you can easily set up a Domain.
Saving and creating backup data for your website is time-consuming. But EasyWP offers one-click manual backup and restoration in the Backup tab.
You will also get access to SFTP and database information in the Files & Database tab.
So, after using it for a while, I think the dashboard is pretty organized, and this dashboard will especially come in very handy and helpful for beginners.
Website Creation Easily
I hope you are already aware of the hassle of building a website from scratch. But if you can get a straightforward user interface, it can make it easier for you to build a website.
After I paid for their hosting service, EasyWP assisted me in starting the website development process with a simple interface.
The process is exciting. You can initiate the process by clicking "Set Up WordPress," similar to the one-click WordPress install offered by many web hosting services.
Performance and Speed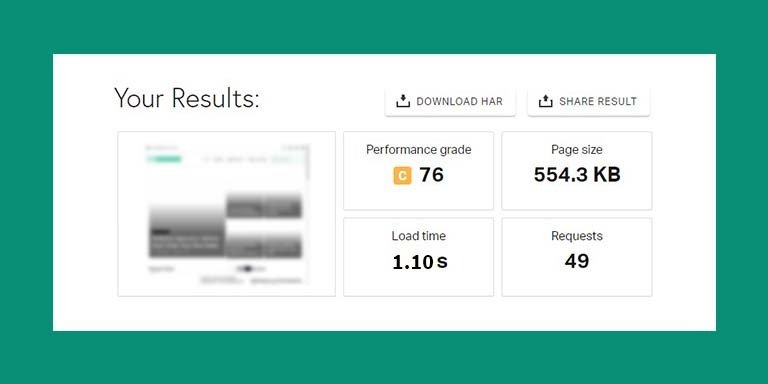 How do you determine whether a hosting is good or bad? Usually, there are some tests to see the actual condition of a web hosting service. Here are some test results I have done on EasyWP.
The average page load speed of EasyWP is around 1.10 seconds. I have seen an average page load time of 1.4 seconds, which is as good as KnownHost and StableHost. 
Also, I tested an EasyWP-hosted website for uptime testing and tested it for 30 days.
During these 30 days, I didn't face any downtime issues. So I have found 100% uptime. So I can tell you its uptime is around 99.99%.
File and Database Management
An organized website is more likely to become successful in the future. So beginners are always trying to organize their website's files and data.
So, to help you with your File and Database Management, EasyWP allows you to grant users access to your portal's database and FTP if needed.
If you think managing File and Data is critical, let me tell you EasyWP will help you with this.
Because their interface is user-friendly, you can generate session-based or persistent authorization tokens as needed.
Effortless Backups Feature
If you are a beginner, many things can go wrong with your website because of your lack of experience.
To save your website from the loss, you will need backup data for your website. I know a beginner will have a hard time backing up the data on his website.
But when I saw the one-click backup functionality of EasyWP within the dashboard, it made me astonished.
This is pretty helpful in easy backup and restoration of the website. A beginner can easily make backups for his site by using this feature.
You can also download backed-up files, including databases. Isn't it amazing?
But the bad news is there are no automatic backups. You need to click the Backups Button for backups manually.
I don't think this is much of a problem at this price point. You need to click the dedicated button to back up your data.
EasyWP makes it easy to keep your website safe and protected. Having a backup of your site helps prevent downtime and makes restoring your work stress-free.
Efficient Caching Feature
No one wants to visit a slow website. As we all know, slow-loading web pages can be detrimental to user experience.
You will definitely lose viewers, and it will hamper your Google position if your website is slow.
EasyWP includes a pre-installed EasyWP plugin on all Managed WordPress plans to make your website fast. This plugin is a caching solution for your website, like Wp Rocket.
This built-in caching solution automatically handles page, object, and database caching for improved website performance.
Free Content Delivery Network (CDN)
A CDN is essential for websites because it makes them faster and more secure.
If you want to provide a better experience to your users, you need a CDN. A CDN is crucial for delivering content quickly to website visitors using servers distributed worldwide.
EasyWP offers a free CDN solution. I was surprised after seeing this feature. This can easily speed up and scale your website.
When I tried to set up the CDN, it took me less than five minutes to set up. This CDN is designed by Namecheap.
Also, they call it Supersonic CDN. After researching it, I have found out it can boost your site's speed by up to 68%.
Easy WordPress Installation Feature
When I bought the hosting service from them, I got confused at first after seeing one pre-installed WordPress website included.
After some time, I realized they offer a pre-installed WordPress setup with their plan. This feature is time-saving because you do not need a manual WordPress setup.
The thing that makes me sad is that it limits one website per EasyWP plan.
Unlike shared hosting, only one website is allowed per plan. But if you think about the price, then this is not a drawback at all.
Moreover, if you want to run multiple websites in a single hosting plan, you can try ChemiCloud or FastComet. They offer hosting services at cheap prices.
Security Feature
The most vital part before choosing a web hosting is to know their security option. So, I researched their security and found out they are pretty good at providing security to websites.
EasyWP mainly focuses on user security. You will get security options vary based on the subscription plan.
Their Turbo and Supersonic plans include free Positive SSL for enhanced security.
At this price, providing Free SSL is just amazing. They also promise complete confidentiality and reliability.
Customer Support
In order to test them, I contacted their customer support to see how good they were. They usually offer support via Email tickets and live chat.
Most of the hosting service providers, like Cloudways, HostArmada, and Hostinger, also offer this type of customer support.
When I contacted them, they quickly responded to me via live chat.
Not only this, but they also provide articles for guidance. More or less, I like their customer service, and I think it's fine.
EasyWP Data Centers
If you ask me why I mentioned the data center of EasyWp in the feature option?
Having multiple data centers across the world is also a prominent feature for web hosting service providers.
They operate one data center in Phoenix, Arizona. If you are a citizen of the USA, you can easily enjoy the speed of the data center.
Adding Custom Domain
EasyWP gives you the ability to add a custom domain. You can use your own custom domain for your website.
But Currently, they support only Namecheap-registered domains. Also, you can easily set up redirects for your existing domain visitors to point them to your EasyWP-hosted website.
EasyWP Hosting Pricing Plans
Now, let's come to the most important part you are waiting for, and that is the pricing.
EasyWP comes with three pricing plans. Now, let's see the price of the plans and their offerings.
Starter $6.88/Mo
First month free
10 GB SSD storage
50k visitors/month
Free CDN
Turbo $12.88/Mo
First month free
50 GB SSD storage
200k visitors/month
1.5x more CPU
1.5x more RAM
Free CDN
Free SSL
Supersonic $19.88/Mo
First month free
100 GB SSD storage
500k visitors/month
2x more CPU
2x more RAM
99.99% uptime guarantee
Free CDN
Free SSL
How to Get Started with EasyWP?
Getting started with EasyWP is pretty simple and straightforward. You can start your website with it in less than 1 minute.
So, I will describe the step-by-step process of creating your website with EasyWP in 1 minute.
First, you need to choose a plan based on your needs by visiting EasyWP's official website.
After choosing a plan, you need to register a user account using basic information, including name, email, and others. The process is simple and won't take more than 10 seconds.
Here's what it looks like;
After that, you will get a payment page where you have to enter your payment information. They support PayPal, Debit, Credit, and American Express cards.
After entering all of your payment information, simply just click the Confirm Payment button; that's it. This is a very easy process for buying their hosting service.
After buying their hosting service, you will get a one-click WordPress installation. After that, you need to enter your domain name. You can use a previously purchased domain or make a temporary one.
Here's what it looks like;
Now you need to wait for background tasks to complete. Usually, it takes 5 to 8 seconds.
After that, they will send you an email with the credentials of your website. You can access your website with those credentials.
DNS propagation may take up to 24 hours. But with a subdomain, you can instantly work on your website.
Pros and Cons of EasyWP Hosting
Here are some pros and cons I found out after using EasyWP.
Pros of EasyWP:
Pure SSD cloud hosting optimized for WordPress.
User-friendly admin panel with essential management features.
Scalability for multiple websites.
30-day money-back guarantee.
Minimal pre-installed plugins/themes.
Upgrade options for growing websites.
Free CDN and SSL on higher-tier plans.
24/7 support via live chat.
Cons of EasyWP:
Additional costs for domain and SSL.
Payment information is required for the trial.
Initial setup complexity with mandatory Namecheap account.
Limited email functionality.
No automatic backup is included.
My Personal Opinion about EasyWP
After using it for quite a long time, I think EasyWP is dedicated to beginners and newcomers.
If you are an expert website owner planning to build a website that will handle more than 100k users and will face a sudden spike in visitors, I won't recommend this.
But I will highly recommend this for new people who want a WordPress website because EasyWP is specially designed to match WordPress.
You will get a ton of facilities and options. Their hosting plans are cheap, so it won't hurt the pocket of beginners. Overall, it's a good hosting at an affordable price.
Why Should You Use EasyWP?
Now the question comes as to why you should use EasyWP for your website web hosting. Here are some reasons you should choose this for your WordPress site.
The first thing is that it's affordable. It offers many features and options at a very cheap price.
Beginner friendly. Have options to help beginners to help create and manage their website.
It is specially optimized for WordPress, so if you are planning to build a WordPress site, this will be the best option.
Last Thoughts
There are many hosting provider companies out there. But EasyWP is especially the best option for those who want affordable hosting for their WordPress site.
I am using their service, and I am pretty happy with that. They are offering a 30-day refund policy.
So I suggest you try their service for 30 days, and if you don't like it, you can easily get your money back.
FAQ About EasyWP Hosting
Are you curious about EasyWP hosting? Look at the FAQ and get all your answers in one place. Let's see some of the FAQs:
Is EasyWP the same as WordPress?
No, they aren't the same. EasyWP is a hosting platform which is designed to run WordPress websites.
Does EasyWP have cPanel?
No, there is no cPanel with Easywp.
Does EasyWP come with SSL?
Yes, they offer free SSL with their Turbo and Supersonic plans.
How do I access EasyWP?
If you select the free address option in WordPress, your website will have a web link that doesn't cost anything and looks something like "your app name(Name of your website)-user.easywp.com.
Who owns EasyWP?
EasyWP is Namecheap's latest service for handling WordPress websites. It's made and operated on Namecheap's particular cloud system.
How do I add users to EasyWP?
To create a new user, it's simple. Find "Add New" on the left menu or at the top of the page. Once you see the page, fill in the requested information in the fields, and then click the "Add New User" button to finish.
How do I connect my domain to EasyWP?
First, you need to sign in to your domain provider account to connect your domain. After that, look for the "URL forwarding" option. Then, pick the domain you want to link to your EasyWP site. Enter your EasyWP temporary domain as the destination URL. Lastly, click Save your changes to connect the domain.
How do I access SFTP from EasyWP?
To access your website in EasyWP, you need to go to your dashboard. Then, you have to find the website you want and click on "SFTP Access." Now, you need to hit the "Access Files" button. For extra safety, you can set a password expiration date for the SFTP account.
Can I use Cloudflare with EasyWP?
If you register your domain with Cloudflare or use their DNS service, you can connect it to your Easywp website using CNAME records. But you cannot create an Easywp website directly on the Cloudflare domain.
Is there any Money Back Guarantee with WasyWP?
Yes, you will get a 30-day honey-back guarantee from Easywp. If you're not satisfied with their service, they will give you a refund. This policy shows how confident they are with their hosting service.