Before you start reading this article, I hope you are doing well in your journey of building or managing websites for various purposes.
If you land on this article, you are likely searching for StableHost on the Internet. This is a web hosting company.
Though you are searching about this web hosting, it is clear you want to purchase this web hosting service or you want to know more about this.
It is the best way to know about any service or product by asking a person who has used the product or service before. So I have tested this web hosting service, so you don't have to.
So before you buy a web hosting service from StableHost, let's see how my journey was with StableHost.
About StableHost (StableHost Review)
If you talk about big hosting companies like Bluehost or EasyWP; StableHost is a relatively small hosting company compared to them.
But it didn't matter to me whether it was a big company or a small one. Is it good? So when I researched this hosting provider company, it started in 2009.
The head office of the StableHost is located in Arizona, USA. So it's clear that it's an American company. The surprising fact about this company is that they have only 15 workers, including the boss.
I have researched more about the legitimacy of the company, and I found that it's a legit company.
After that, I researched their website and talked to many people and learned that this website serves an estimated 150,000 visitors every single month. I was shocked after knowing that.
After that, I also found that the large majority of them were Vietnamese, contributing over a quarter of the traffic, followed by the United States, Sweden, India, and Germany.
About StableHost
So are you excited to know about some exceptional things about StableHost? First, when I got into StableHost, I was also looking for some eye-catching features of this hosting.
Luckily I have found one. It will offer you something different than the rest of the hosting industry, and the feature is called the StableHost cluster.
But when I saw that, I immediately understood that it was actually a copy version of Cloudflare.
But at least it is a unique feature, and it helps to reduce server downtime in the time of automatic failover. If you need clarification, let me make this easy for you.
For example, if the hard drive you are using on your server fails to load, the system will automatically allocate you to a working hard drive.
As a result, you will face less downtime, and your visitors won't complain about it. So it's a unique and useful feature.
Security Features of StableHost
If you talk about security, it's the most important aspect of choosing a hosting plan. At first, I was confused about the security of StableHost. Is it secure?
But I was convinced after seeing the features they offer to ensure your safety. They offer plenty of security features. So let's talk about the security features of StableHost has to offer.
SSL Certificate
When it comes to security, from the perspective of an average user, I will check whether it is offering SSL or not.
The good news is that StableHost offers a free SSL certificate with all its plans. The speciality of their SSL is that they provide Domain Validated SSL Certificates.
These are the new types of SSL I have seen, and these are issued easily and quickly. If you want to dive more deeply into it, you will find three more types of SSL.
Backups Facility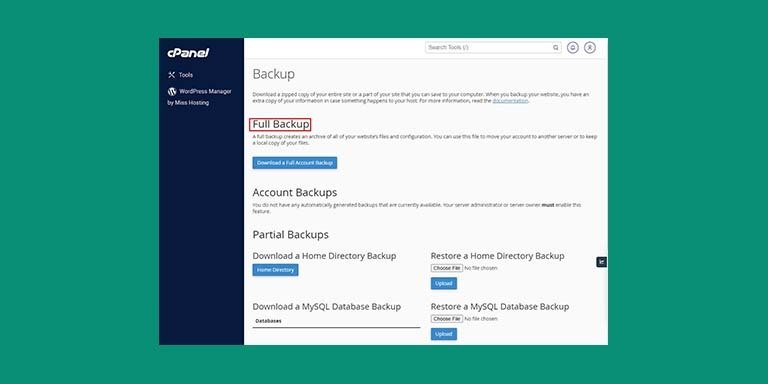 Backups are the most important thing for a website owner. There are plenty of chances of getting things wrong.
In case something goes wrong, your backups will save you. While using StableHost, I had a good experience with its backups.
From its Cpanel, you can create a backup for your website. All right, but what if you need to back up your website for any reason? StableHost has got you covered.
They will give you the opportunity to create automatic backups of your website. These backups are stored on the server of StableHost for 14 days.
2FA (Two-factor Authenticator)
We all are familiar with 2FA or two-factor authentication. Usually, almost all of us use this security system on our social media accounts.
If you don't know what 2FA is, let's talk about that. Two-factor authentication (2FA) is a security process where you would require a code or message to verify your identity.
I have found that StableHost supports security codes from authenticator apps like Google Authenticator.
Virus Scanner
I don't have to explain to you what a virus is and what virus scanners are used for. We all know viruses can affect your website servers.
To avoid that, StableHost will offer you a scanner to scan the entire home directory, email, public FTP space, or web space. With that, you can make sure that your server is virus-free.
IP Blocker
The newest problem that website owners are facing is spamming. If you think about how you can overcome this spamming problem, the solution is IP blocking.
With the help of StableHost, you can block IP addresses you wish to prevent from accessing your website. As a result, you can easily block the IP of a spammer.
ModSecurity
Firewall is one of the effective solutions when it comes to protecting websites. The StableHost will also offer you a firewall service. They called it ModSecurity.
This firewall is specially designed for web-based applications. Suppose you are interested in knowing how their firewall works. Let me explain that to you.
First of all, the firewall will detect malicious connections in your online traffic. If it can find some malicious connection, it will then automatically block them to secure your site.
ImunifyAV
You are all familiar with antivirus. First of all, when I learned about the feature of the StableHost named ImunifyAV, I was confused because of the fancy name.
But after knowing how it works, it was clear to me that it is an antivirus. It is an antivirus tool that is specially made for websites.
Firstly, when I used this tool, it actually scanned my website. After that, it will clear all the suspicious things like malware, adware, spyware, trojans, etc.
SSH Access
It's a technical feature, and for people with less technical knowledge, it will be hard to understand this. But I have tried to simplify this for you.
First of all, this feature is for transferring files securely. This feature helps users securely transfer files over the Internet and connect to their hosting server.
StableHost Key Features
Choosing the right web hosting provider is crucial for the success of your website. With so many options available, it can be overwhelming to narrow down your choices.
However, one hosting provider that stands out from the crowd is StableHost.
With a reputation for reliability and top-notch performance, StableHost offers a range of key features that make it an excellent choice for any website owner.
Now I will explore the features of StableHost that set it apart from the competition and make it a reliable and trustworthy hosting solution for your online needs.
Data Center of StableHost
So as a professional in this sector, first, I have tried to know the location of their server.
Because a server in multiple locations is a good sign for a web hosting providing company. So what I have learned is that their data centers were located at:
Phoenix, USA
Chicago, USA
Frankfurt, Germany
Stockholm, Sweden
Amsterdam, Netherlands
Valencia, Spain
Singapore, Singapore
Singapore LiteSpeed
Vilnius, Lithuania
Turku, Finland
Actually, they have 10 data centers across the world. If your visitors are mostly from South Asia, I suggest you choose the Singapore data center. Because if you do that you will get more speed.
If you are a user from Europe, I suggest you use the data center in Frankfurt, Germany, because I personally get the best speed from there.
StableHost Dashboard
The main area of any web hosting is the dashboard. Because you will control everything from the dashboard, it's important for a web hosting company to make its dashboard as user-friendly as possible.
So when I logged into my StableHost account, I saw that they offer the normal WHMCS client panel.
I was disappointed because of that, but if you think about the other factors and price, it's fine then. It's pretty sure that the company needed to invest more in the client's panel.
Also, I saw that StableHost comes along with cPanel hosting as a web control panel. Most beginners are well known about this and don't have any issues working with cPanel.
One-click CMS Install
Installing software or CMS on your web hosting is a pretty hard task. When I was a beginner, I also faced these issues.
But when I saw the one-click installation system of StableHost, it made me happy.
This system works by letting you install famous apps such as WordPress, PrestaShop, and Joomla in a very easy process.
Free Website Builder
Website building is costly. As a beginner, how costly is website building? The answer is that it is expensive because you need to hire a professional website builder, and hiring is costly.
If you want to make your website on your own, you will need coding skills that most beginners don't have.
So when I saw this, I was excited to try the feature of the site builder. StableHost also comes with an inbuilt app called the Site Builder.
With that, I created my website for free. Isn't it amazing to build your website for free and within no time?
This website builder has a drag-and-drop feature, which will allow you to create and customize a professional blog or e-commerce.
Not only this, they offer many pre-built themes to make your website. You can use those things too.
Unlimited Space and Bandwidth
The interesting fact about StableHost is that they offer unlimited bandwidth and storage. In their price segment, no one will offer you this facility.
So it's a big plus point for StableHost users. You will get this with their every plan, even if you buy their entry-level plan.
StableHost Pricing Plans
First thing first, after knowing about the company, I decided to buy their service. So I went directly to check their pricing plan. When I got there, I was surprised and confused.
Because StableHost offers a significantly lower price compared to the industry, their cheapest shared hosting plan is named the web hosting plan, starting at only 3.50 USD per month.
Moreover, if you purchase any StableHost hosting plan with a one-year contract through this special link, you will get 50% OFF.
As a result, I calculated that I have to pay only 1.75 USD per month, and I will get unlimited disk space, unlimited bandwidth, live chat, cPanel hosting, free website builder, free daily backups, and many more.
But I have learned that while doing research about StableHost, on some occasions, like the Black Friday sales, it offers up to 80% off coupons.
So if you can grab those deals, you have to pay an even cheaper price of 0.70 USD per month. Interestingly, there is still an offer going on. You can check that out by clicking this special link.
The price of StableHost made me happy, and if you talk about the price, it is ridiculously affordable.
It's only about basic plans. There are also some other plans the StableHost will offer you if you want to purchase.
The second plan is 8.50 USD (Pro), and the third one is 27.99 USD (Platinum).
When I saw this plan, I noticed the major difference between them. The major difference between Starter and Pro plans is literally nothing in support, hosting more than one website.
So basically, I wouldn't say I liked these plans as much as I liked the starter plan.
Is StableHost Suitable for Beginners?
After using it for a while, it's suitable for beginners. First, its price is low. As a beginner hosting, offering many features at a low price is a good option.
With its good security and user-friendly system, it will be helpful for a beginner. They offer many data centers, so a beginner can choose from whatever he likes.
When it comes to buying StableHost, you can choose from USD (US Dollar), EUR (Euro), or KR (Swedish Crown).
So the payment system will give you a manageable amount of complexity. Also, you will have a 45-day money-back guarantee.
After using it, I will definitely prefer StableHost to beginners who are planning to launch their first site.
What did I like the Most About StableHost?
After using StableHost for quite some time, here are the things I like the most about StableHost:
For starters, it allows me to pay on a monthly basis, and they offer coupon codes for 50% off new accounts based on the plan selected.
They offer a tremendous discount on Black Friday.
If you want to avoid the hosting company's name appearing on your website, such as with Wix, this is the option for you.
It offers configurability along with dependable integrations and industry-standard cPanel management.
The StableHost's hosting plans are flexible, reasonably priced, and include lots of useful services.
They have a 24/7 live support team. So I can get any support any time I want.
What I don't like about StableHost?
There is little to dislike about StableHost. But I have found some things that need to be fixed. My website sometimes takes more than 2.5 seconds to load.
I have faced downtime almost 6 times in one month. But these are the smaller issues. As a beginner, it will be fine for you.
Final Thoughts
As a beginner, your first priority should be good service at the lowest price. Despite some issues, StableHost will match these requirements.
As a beginner, I recommend you use StableHost. After using this, I found this web hosting service reasonable and good. They don't give me that much scope for complaining.