Today I will talk about Network Solutions. This is the oldest domain register in the world. The age of this company is more than 40 years.
They provide a variety of services like web hosting, website builder, domain registration, etc., but nowadays, this is famous for its web hosting service.
I personally use their web hosting service. So without further due, let's see what I have found about Network Solutions.
About Network Solutions (Network Solutions Review)
Because it is the world's first domain registrar company, it catches my eye. So I was curious about the company and researched it.
I found out that this company was founded in 1979 as a DNS technology provider. Their history is pretty old.
They operated the first DNS registry in 1991 under a U.S. government subcontract. The interesting fact about this company is that it Initially focused on domain registration and DNS services.
Not only this, this company is so big that it was beyond my imagination. Because this company owns sole registrar rights for .com, .net, and .org domains, this company is responsible for maintaining the WHOIS database.
After learning these interesting facts about the company, I dive deep to know more about the company.
When I did that, I learned that they are expanded beyond DNS to various web hosting and online services.
Network Solutions offers many website-related services. From security packages and website builders to email hosting, they provide all-in-one solutions for websites. Especially their hosting services.
They are offering shared cloud hosting services. They have a variety of hosting options with accessible applications. Not only this, Network Solutions provides domain names, hosting, and related services.
So if you are a citizen of the USA, you have good news and that their data center is located in North America.
So after seeing their offerings and services, they specialize in helping small businesses establish an online presence by providing all-in-one solutions for websites.
As a beginner, if you purchase their hosting service, they will provide you with options for website building. Guidelines are essential for a beginner to achieve success.
So Network Solutions offers guidance for online marketing and email messaging to help beginners with their work.
Network Solutions Features
Now after knowing about the company, it's time to see what Network Solutions has to offer. First, they didn't offer much other than providing hosting and domain registration.
But as I bought their hosting service, I realized they have plenty more to offer. So let's see what I have found out by using their services.
Website Builder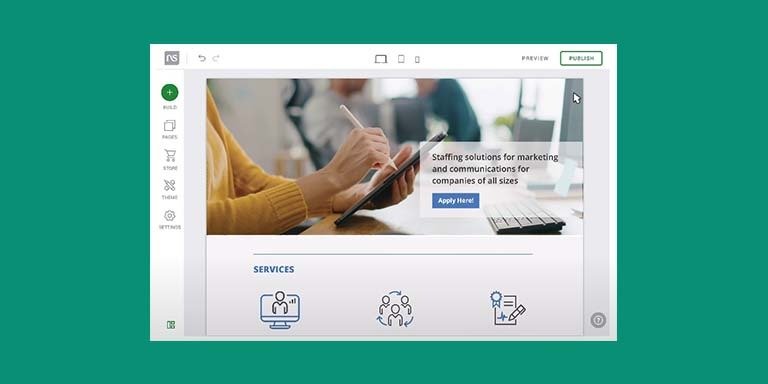 The thing about Network Solutions that fascinates me is its website builder. Building a website is a tough job.
Most of the time, a person wanting to own a website must hire a professional web developer for website building.
This is costly, and as a beginner, it's more of a burden. So if I told you, you can build your website for free?
Yes, while researching Network Solutions, they offer an excellent website builder. The website builder is strong and full of options.
After using this, this website builder is good for quickly creating a professional-looking website. With so many options, you can easily customize your site's appearance using the DIY website builder.
But this website won't come for free. First, you need to buy their hosting packages to get access to the builder.
When I first started using this, I liked their template the most. Network Solutions provides a variety of templates for site development.
With these resources, you can easily build a professional-looking, unique website. For beginners, these templates and themes mean a lot.
We all are familiar with drag-and-drop builders. This drag-and-drop builder is a straightforward system used in various sectors.
Using drag and drop to build a website will bring a revolutionary change in website building because it makes website building so easy that anyone can create their own website without any hassle.
When I saw their drag-and-drop system, I used it to know about the full potential of this feature, and I found out that their Themes are user-friendly with a drag-and-drop interface. So who doesn't want their website to rank first on Google?
To do that, building a website in an SEO-friendly manner is essential. Because I have been in this sector for a long time, I saw many websites that take time to load and don't follow the proper guidelines of Google.
These sites are full of junk coding and excessive parts. But the websites you can create with the website builder of Network Solutions are SEO-friendly. They specially design their Themes for SEO compliance and higher Google ranking.
Nowadays, the demand for e-commerce websites is increasing. Because of the vast possibilities of the e-commerce sector, everyday people are building e-commerce websites to sell their products.
So keep this demand in mind. Network Solutions will offer you a dedicated e-commerce website builder.
With this builder, it gives you the opportunity to put together an online website optimized for sales. I tried this tool for fun to see how it works.
And I have found out that the tool includes an online catalogue builder, which can keep track of inventory levels.
Not only this remarkable fact that it has a feature called 'Add a Store.' With this feature, you can easily plug into any WordPress, Tumblr, or Joomla account and make it e-commerce-capable.
Lastly, they will offer you a real-time analytics tool after you publish your website. With that, you can easily track what your customers are clicking and which action is the most popular.
As a result, you can quickly determine what to do and what not. This will increase the chances of your success.
Online Brand Protection
If you own a brand, you will know the importance of guarding your brand image. This is crucial for online business success.
To help you with that, Network Solutions will give you a helping hand. You are entirely wrong if you think your brand is small and doesn't need protection because identity theft targets small brands.
So to protect your brand, Network Solutions offers a free brand protection bundling tool.
Cloud Hosting
We all know the benefits of cloud hosting. It's the newest and safest technology in the hosting business.
Network Solutions offers cloud hosting services with all their hosting packages. By using cloud hosting, they easily eliminate server downtime.
With cloud hosting, your data becomes decentralized across multiple servers. As a result, it will ensure data safety and online presence. With these facilities, it will easily provide a seamless experience for customers.
Another benefit of cloud hosting is that it offers infinite scalability. With this scalability, you can easily grow your website with your business.
I highly recommend their hosting service for established businesses and startups. So if you are worried about the offering of Network Solutions, Network Solutions provides suitable data packages, which include custom email and domain names.
When it comes to security, cloud hosting is the best option. But Network Solutions offers you facilities one step ahead of other hosting providers.
They will offer you malware scanning and removal services. With this, you will also get SSL certification for security.
If these need to be clarified for you, they will provide you with live tech support available for assistance because it offers 99.99% uptime and is trusted by many big companies. I will recommend them for hosting services.
Website Security
Nowadays, the most common fear of website owners is malware attacks. It can attack any website. A study shows that an average website is attacked 44 times a day.
It is a vast number and a matter of concern. If you think your website is small, no one will try to hack it.
But for your information, hackers target small businesses more than big websites. When your site gets hacked or infected by malware, search engines will blacklist your website. As a result, you will lose traffic.
Now if you are thinking about how to protect your site from these Network Solutions, you've got covered.
Their hosting package will offer you site lock and SiteLock911. Sitelock will regularly scan your website to detect the possible weakness of your site.
But if your site is already infected, they will offer SiteLock911, eliminating the malware from your website.
Email Service
Besides hosting plans, they offer an email service. With this, you can easily make a combo with your hosting and email. So it will reduce your hassle.
They will offer you emails that will match your domain names. With that email, you can easily make an impression and build trust with your audience.
Why is this email service important? Let me tell you that with this email service, you can have a unique email address connected to your website's name.
This kind of email address will make you look professional, which will help people remember you better and make you seem more trustworthy.
Online Tools to Increase Business Productivity
We know time is money. So everyone is trying to increase their productivity in business.
So keep this in mind Network Solutions offers online tools to increase business productivity.
These tools are designed to save time and enhance the potential of companies of all sizes. One of their most valuable tools is cloud-based Microsoft Office 365 tools.
With this tool, you can save your text documents, spreadsheets, and calendars securely encrypted, archived, and synchronized across all of your devices.
They also offer an email service. With this tool, you can use email accounts that match your domain name.
Their email tool comes with flexible storage that grows according to your needs. The world is changing, and software and systems are updating.
To keep up with this, Network Solutions offers automatic software updates and easy tool accessibility with their email tool.
As a result, you can easily increase your business credibility and improve client communication.
So if you want to enhance company efficiency and credibility, these business tools will help you a lot. Because when I personally use these tools, they boost productivity for business success.
Cyber Security Solution for Small Business
With the number of websites increasing, the number of cybercrimes is increasing. From my personal perspective, small businesses are increasingly targeted by cyber crimes.
It's a massive matter because small business owners need to gain the kind of technical skills and resources to fight cybercrime.
So if you buy hosting from Network Solutions, they will offer you a cyber security system.
I have found out that they offer a wide range of security tools and services to prevent cyber attacks. These tools are practical and helpful in preventing cyber attacks.
They will also offer you 24/7 access to trained security experts. With help from them, it will become easy for you to prevent cyber attacks.
The main motto of the experts is to guide companies through remediating, preventing, or investigating cyber crimes like malware, adware, and phishing.
We all know how the number of mobile users is increasing. So they will also offer you Mobile Protection.
They will provide device monitoring, timely breach reporting, built-in VPN, and safe browsing as mobile protection.
Network Solutions' security solutions work for businesses of every size. Not only this, it is affordable and effective for various business scales.
Network Solutions Pricing Plans
Looking for affordable pricing plans for Network Solutions? Explore the options at Network Solutions and find the perfect plan to fit your needs.
Whether you're a small business or a large enterprise, find the perfect plan to suit your budget and requirements.
Let's see the pricing plans of Network Solutions and take your online presence to the next level with Network Solutions!
1. Web Hosting
When I got into their offerings, the first thing that caught my eye was their shared or web hosting.
As we all know, shared hosting is a cost-effective web hosting option. If you need to learn how it works, let me explain that to you.
On a shared hosting package, your websites will be placed on a server with other sites, and they will share resources.
The thing I like the most about their shared hosting is that they offer various wallet-friendly shared hosting plans.
So let's look at their plans. They offer four different plans for shared hosting, these are:
Starter Plan $5.69/Mo
Entry-level tier.
Includes one website.
Provides five email accounts.
Offers 15 GB of disk space.
Unlimited data transfers.
Essential Plan $15.95/Mo or $9.96/Mo for a Year
Supports three websites.
Offers 1,000 email mailboxes.
Provides 300GB of disk space.
Unlimited data transfers.
Professional Hosting Plan $25.78/Mo
Supports 10 websites.
Unlimited storage, email, and monthly data transfers.
Includes SiteLock premium for security.
Premium Plus Plan $31.61/Mo
Adds an SSL certificate to the Professional service.
SSL for $9.99 per month.
As you can see, the pricing and the offerings of their shared hosting package are pretty good. And I personally like their essential plan.
2. WordPress Hosting
One of the essential things a hosting provider company will provide is WordPress hosting. Network Solutions is no different from them.
It also offers WordPress hosting, As we all know, WordPress powers about one-third of all websites. I personally use WordPress as my portfolio website. So as a beginner, there is only one option besides WordPress.
Because it is user-friendly and offers a wide range of themes and plugins. Network Solutions provides three WordPress hosting tiers, these are:
Entrepreneur Plan $7.99/Mo
Supports one website.
Offers 50 GB of storage.
Includes 10 email boxes.
Cloud-backup solution included.
A Growing Business Plan $13.98/Mo
Build upon the Entrepreneur plan.
Supports three websites.
Provides 100GB of storage.
Includes 25 email boxes.
Offers an SSL certificate.
Professional Plan $18.98/Mo
Supports five websites.
Provides 200GB of storage.
Includes 50 email boxes.
Is Network Solutions Reliable?
If you ask me this question, the answer is definitely reliable. This company has been in this hosting and domain registration business for more than 40 years.
Without reliability and consistency, no company can survive for this long period of time.
I personally use their hosting service, and they are pretty professional in providing their services. So I will rate Network Solutions as a reliable hosting service provider.
Final Thoughts
After using the hosting service from Network Solutions, I liked their service very much.
I liked how they offer various features with their hosting packages. It's unique how they are trying to provide a one-stop complete solution for the website.
It is helpful for beginners because they will get all the necessary services along with their hosting from Network Solutions. I recommend Network Solutions for hosting services.
FAQ About Network Solutions Hosting
Is Network Solutions legitimate?
Network Solutions is the first and oldest domain registrar, so you can tell without any doubt that this company is legitimate.
Is their hosting service good?
Definitely, their hosting service is good. They offer a variety of deals and options with their hosting plans. Their plans are pretty good compared to other big companies.
Can I transfer my website hosting to Network Solutions?
Yes, the process is very easy, and they will offer you an easy migration system to transfer your website to their hosting.
Is Namecheap better than Network Solutions?
Regarding offering services and experience, I like Network Solutions more than Namecheap.