We all know that SEO is essential to the success of a website. There are a lot of tools on the market that can help people with SEO and other things like that.
But Chrome extensions are a great way to do SEO work on a large scale. SEO specialists often use thor software, so many companies make Chrome extensions. But not all extensions work so well.
This article is for you if you need to know which extensions to buy and which ones you shouldn't. Plus, if you work in IT and use SAS products often, you can find great deals on SEO and other essential tools at Appsumo.
In this article, I'll give you a quick overview of the 10 best Google Chrome extensions for SEO which I have been using for the last 5 years of my Blogging and SEO career.
Why Do You Need Extensions for Chrome for SEO?
Professionals always like getting an extension because it can make their workdays easier. When it comes to SEO, making tasks more accessible is a great way to relieve stress at work.
With a few clicks, you can do simple and complex SEO tasks with Chrome extensions. SEO professionals must be good at doing more than one thing at a time.
With Chrome Extensions, you can do many things accurately. This will help you reduce the time it takes to do things. On-page SEO is important, but it can sometimes take a lot of time.
For more details and if you want to improve your On-page SEO and increase website search traffic fast, see our step-by-step guide on how to increase website traffic fast.
Moreover, you can use Chrome extensions to simplify this part of SEO and save time. These Extensions can cut down on the time needed to do mechanical tasks.
Lastly, task extensions are an excellent way to improve your SEO efficiency. So why are you late? Let's jump into the list;
Top 10 Best Google Chrome Extensions for SEO
Are want to know the best Google Chrome extensions for SEO to increase your website search traffic?
Here, I will provide a list of 10 popular Google Chrome extensions for SEO that are widely regarded as useful as of my last knowledge update in June 2023. Let's jump into the list:
1. MozBar
If you need an SEO extension for Chrome that is easy to use, this is it. MOZ made this add-on. It works by telling you the domain and page authority of any page on the web.
With this Extension, you can learn about your competitors. One of the most important things about this Extension is that it will show you the most reliable pages that need to be looked at.
Mozbar is the right tool for you if you care about saving time. Because it lets you learn about SEO without leaving your web browser, it is known for showing things like meta details, domain authority, spam score, Moz rank, etc.
If you want to make your work easier, this extension has a solution for you, and that is, with one click, you can get to SEO metrics.
2. Keywords Everywhere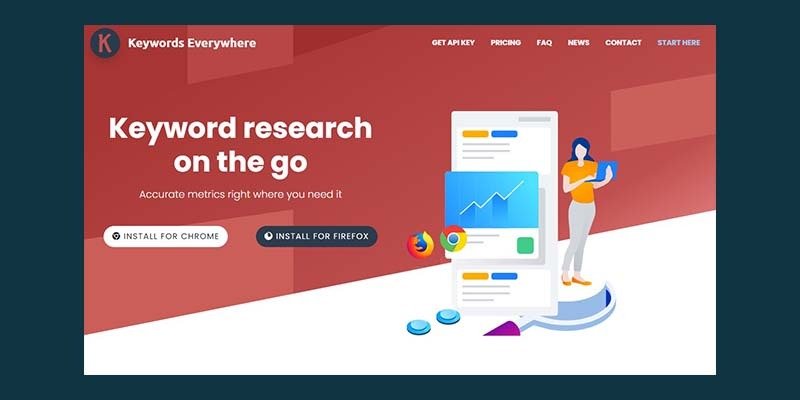 Keyword Everywhere is it if you're looking for the most popular Chrome extension. This Extension is a must-have for researching and analyzing keywords.
This tool gives you a list of other keywords you can use to target based on the keyword you provide.
Don't worry about things like exporting lists or other similar items. Using this Extension, you can quickly export the list and create a master list of valuable keywords.
It will help you by showing you related keywords, long-tail keywords or phrases, and related queries that people search for. This Extension is for you if you want to move up in search results.
3. Mangools
Mangools is one of the extensions that is specially made for digital marketers. This Extension is known for having a quick system for analyzing SEO.
Using this Extension, you can get a lot of analysis and data with just a few clicks. This Extension will help you in many situations, such as:
Analyzing data from your competitors.
Backlink data analysis.
Rank tracking.
Broken link data detection.
Authority of a domain.
Page credibility.
The flow of citations and trust.
This tool has advanced features and intelligent context menu integrations. You can use these features right in Google SERP.
4. Ahrefs's SEO toolbar
Ahrefs Extension is very flexible and has a lot of features. So, you can use this instead of other SEO extensions for Chrome.
We all know how important and highly valued on-page SEO is by Google. And if you're worried about your on-page SEO, don't be.
Ahrefs SEO Toolbar is known for its accurate on-page SEO report and its redirects tracer, HTTP headers reader, link checker/highlighter, and search location simulator.
When you use this Extension, you will get the domain and keyword metrics for the URLs you visit and search.
Moreover, when it comes to SEO, sending URLs to Link Intersect and Content Gap reports is one of the hardest things to do. Ahrefs SEO Toolbar makes it easy to do this work.
5. BuzzSumo
Buzzsumo Extension is a tool for tracking social media. Its job is to find the social media posts that do the best. It will show you pages with data points like the number of shares, likes, comments, etc.
If you're trying to get good at SEO strategies for social media, this Extension will help you a lot. This Extension is a popular tool for content marketing.
PR pros use this tool to gather information about campaigns, which is good news for you. BuzzSumo can give you a detailed look at how a particular piece of content is doing.
You also don't have to leave your web browser. You can analyze not only your posts with BuzzSumo but also the posts of your competitors.
6. Ubersuggest
Suppose you are looking to buy an SEO tool. You will probably hear about Ubersuggest because it is the most commonly used SEO tool.
The Ubersuggest SEO extension lets you see all the keyword data on the SERPs. It will also give you related keyword data and information about them.
This information can be seen on the SERPs or exported into a CSV file. The exciting thing is that it will also show you search results from YouTube and Amazon.
This extension is well-known for giving information about backlinks, the number of social shares, and domain metrics.
7. Lighthouse
Lighthouse is a free SEO extension for Google Chrome. This tool comes from Google. The main thing this Extension does is analyze websites in depth.
This analysis looks at optimization for performance, accessibility, advanced web applications, and SEO best practices.
Performance optimization analysis is one of the essential parts of Lighthouse. This Extension will let you know if you incorrectly use caching, resource compression, and modification. Advanced web app analysis is very important in this Extension (PWAs).
Using this Extension, you can find accessibility problems like missing alt tags for images, missing header tags, and the wrong way to use colors. Even though it is free, this tool is liked by both experts and beginners.
8. Redirect Path
If you need help fixing redirect problems, Redirect Path Extension is for you. This tool finds issues with your JavaScript redirects, meta codes, and HTTP Status Codes for 301, 302, 404, and 500 redirects.
To make a lot of progress, you'll need to keep your SEO website updated. The good news is that Redirect Path will keep your site's technical SEO up-to-date.
Keeping all your links working is one of the things that makes it appealing. It makes sure that your redirects work as they should.
By doing this, you can ensure that the people visiting your website have a great time. To fix and improve problems with redirects, it's important to find redirect chains, and luckily, this Extension can do that.
This is an essential tool for anyone who wants to keep an eye on and improve the redirects on their website.
9. Minion SEO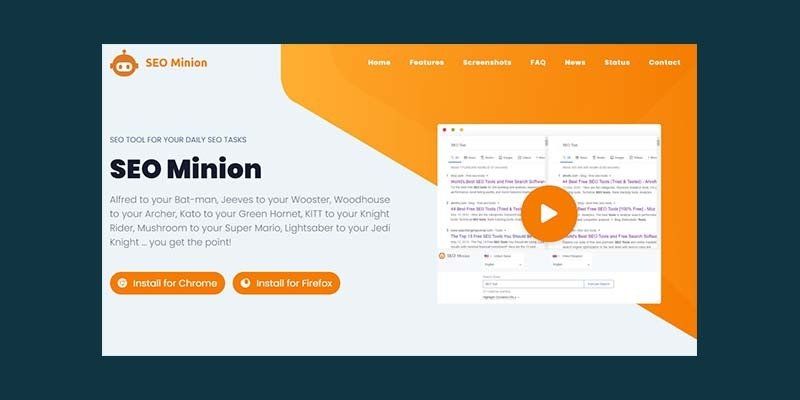 On-page SEO is so important that it's hard to put into words. This tool is excellent for analyzing SEO elements on a page. Minion SEO extension will give you tools like:
Hrefland Checker.
Link status checker.
Google Search Location Simulator.
You can use the tool to see where your website ranks on Google. One of the good things about this tool is that it has various tools and features to help you with your SEO.
Backlinks and broken link analysis systems are extra features of this tool. With these features, this Extension can find any problems with the backlinks to your site.
10. SimilarWeb
SimilerWeb is one of the more advanced extensions. It can check a website's estimated traffic, traffic sources, visitor locations, and other essential statistics.
With this information, you can effectively plan your website's content and marketing to reach your target audience.
It will allow you to rank higher than your competitors by looking at link opportunities and figuring out what they are doing.
This Extension will help you get traffic if that is what you are trying to do. Because SimilarWeb will find the best ways to get people to visit your website.
It will help you with your research by telling you which pages on a website are the most popular.
Last Thoughts
I hope you've learned much about Chrome extensions for SEO from the article above. You don't have to use just one of them.
You can use a combination of tools from the list to get the best result. If you still need to start using extensions for SEO, try them out today and see how well they work for you.
It helps to be efficient in this competitive field, and extensions can help you do that.