Are you looking for an easy-to-use and efficient way to track projects with coworkers and clients?
With that in mind, in this blog post, I will break down an AI-powered tool that can help you in this situation, and it can easily replace "Notion"!
Get started with Taskade.
Hey there, in this Taskade lifetime deal review article, you are about to know what Taskade is, its features, why you need to use it, pricing plan, Taskade Appsumo lifetime deal, discount, and last verdict.
What is Taskade?
Taskade is a simple web app that makes it easy to manage lists. It also has powerful features for working on lists together with other people.
You can also make lists without logging in or creating an account. The interface is easy to use, and you can change the bullet points to checkboxes and other bullet points.
The app is simple, but it makes it easy to keep track of tasks and makes it easy to work together. One of the best things about Taskade is that it makes it easy to work with others.
You can invite more than one person to a workspace or list and let them edit the document. You can give people tasks, making tracking a big project with many people easy.
Taskade is a great way to work together. Additionally, you can add comments to each task. Taskade can be used on the web, iOS, Android, and native apps on your Windows or Mac computer.
If you use Chrome or Firefox, you can also add the app as an extension to your browser. This is a fantastic new feature.
It turns your new tab into a Taskade list so you can see your tasks quickly. This is a great addition, and it's a small thing many apps don't do.
This shows that Taskade cares about even the most minor details, and these make the user experience better. People who often forget what they need to do will appreciate this feature.
Learn More: Visit Taskade's official website.
Taskade Lifetime Deal Features
Taskade is the best real-time organization and collaboration tool for completing more work. It has too many features. Some of the most useful features are given below:
Branded Workspace
Your Taskade workspace can have branded backgrounds, and you can even change the colours on the workspace to match your brand.
This is great if you want to create a branded experience for your team, but they won't see the branded background image by default when they join.
Instead, they can choose any background image they want. But the brand colours will still be visible in the workspace.
Each account has its background, but each teammate has the same Workspace icon and colour.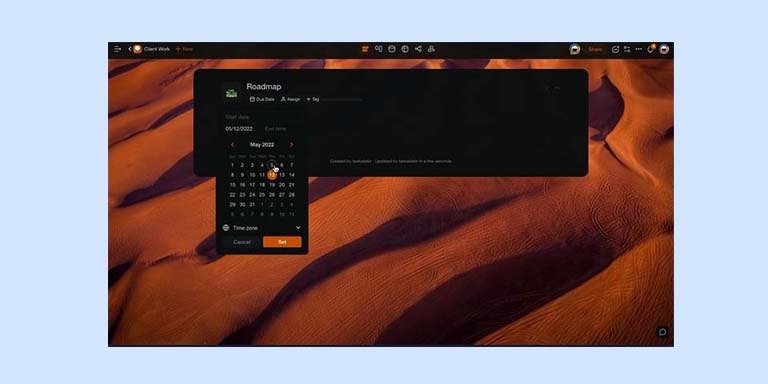 Weekly Work Planner
When doing a new project, the top of the workspace has several templates and options.
If you click on the icon for the weekly planner, it's easy to set goals for the week and plan the most important things you have to do that week.
You can not only set goals and keep track of daily tasks, but you can also keep notes every week.
Ability to Add Cascading Sub-Tasks
If you are short on time, making and keeping track of project tasks can seem like a lot of work. It isn't very good if you have to click a lot to create a project task.
Taskade makes it much easier to do this by creating tasks and sub-tasks with simple keyboard commands.
Instead of making three mouse clicks to make one task, you can press the Enter key to complete the job and then the Tab key to create a subtask under that task.
@Mention and #Hashtag Feature
Each project, task, and sub-task can be assigned to specific people, but what if you want to bring 2 to 3 other people in on the job for assistance and review?
Use the @ symbol to mention the other team members you want their feedback on in the task.
Next, use hashtags to categorize your tasks using the # symbol.
Manage Teams in Workspace
When your workspace is set up and ready to go, you can start inviting people to work with you by using the circles next to your profile picture at the top of your workspace.
Actually, this will make it easier for you to monitor the progress of your team members. Work together in real-time to develop ideas, make and change lists, take notes, organize and manage tasks, and create documents as a group.
You can also chat with other team members and set up conference calls from the project. You can also see who just finished what tasks and more.
Automate Workflows with Reusable Templates
If you have projects, you repeatedly do, you can make project templates to speed up the process (and save time without having to recreate all of the tasks and workflows).
For example, if you made a template for my blog content projects in Taskade that you can use when you schedule blog posts for the next few months using those projects.
When you start a new project, the template will now be at the top of the workspace.
Do you want to know more? Well, click here to learn more about Taskade.
Why Do You Need to Use Taskade?
It lets you make vertical lists that can be formatted differently by highlighting, using bullet points, or having tasks and subtasks.
You can use these to create project plans, task lists, bullet journals, and more. It is excellent that you can share and work together with the app. You can work with others in real-time and leave comments on tasks or the whole project.
Also, you can invite people to a workspace or to different lists that you want them to be able to work on.
When you share a list or workspace, the people you invite can edit it at the same time as you. You can also talk to others by clicking the "comment" button.
You can comment on each point, which is a nice feature. If you have a problem or question about one, you can send a comment.
Taskade also lets you change the background, which you can do with the colours or images you upload.
The progress bar at the top of the list lets you know how many tasks you have completed. This gives you an excellent big-picture view of where you are with the job.
You can also use Taskade on your phone, so as long as you have an internet connection, you can check on your tasks wherever you are. The website has a mobile app that has most of the same features.
Taskade Pricing Plans
Taskade is one of the best task management tools with unlimited flexibility that allows individuals and remote teams to work together in an excellent unified workspace.
There are three different types of regular pricing plans. These are; Free, Strater, and Plus.
Free plan $0/Mo
1,000 AI Credits/month
1 Workspace
3 Members
250 MB Storage
7-Day Project History
Task List, Mind Map, Meeting Notes, Team Calendar, and More
Strater plan $4/Mo
5,000 AI Credits/month
1 Workspace
3 Members
2 GB Storage
1-Month Project History
Calendar Integration & Syncing
Guest Sharing and Links
Plus plan $8/Mo
10,000 AI Credits/month
2 Workspace
5 Members
5 GB Storage
3-Months Project History
Cloud Upload Integration with Google Drive, Dropbox, and more
Click here to get started with a regular plan.
Now you may think that the regular price is too expensive. No worries, a Taskade lifetime deal is available on Appsumo for only $59!
Taskade Lifetime Deal by Appsumo
Appsumo is the #1 digital marketplace for entrepreneurs. Because among all the lifetime deal-related websites globally, Appsumo is the best.
I think Taskade is the best Appsumo lifetime deal offer ever. You can even get an additional discount offer of up to 98% on the Taskade lifetime deal on Appsumo.
Taskade Lifetime Deal One Time Purchase of only $59.00 | $2050.00
All features above included
Unlimited custom workflows and templates
Unlimited collaboration with guests
All Unlimited Plan Features
2 workspaces
Unlimited storage limits
Unlimited tasks and projects
Unlimited workspace members
Get an Extra 10% Discount on Taskade Lifetime Deal – Appsumo
Taskade's lifetime deal offering price is only $59. But you can easily get an extra 10% discount on the Taskade Appsumo deal.
If you want a 10% extra discount offer for your first purchase from Appsumo, follow the instructions below:
Click here to go to Appsumo– "Taskade Lifetime Deal Page. "
Get a discount pop-up bar.
Enter your valid email ID.
Continue next with the same email id.
Check your email inbox.
Get a 10% discount offer!
Note: 10% Discount offer valid only for first purchase (New customer).
Congrats! Taskade lifetime deal from Appsumo one-time purchase for only $53!
Last Verdict
Taskade is an amazing value. Very flexible. You will love this if you are a Notion, Slack, Trello, or Clickup user.
If you have never used either, you will be surprised by Taskade´s organizational workflow. Also, it has a very clean and logical design. The value is just a great plus. Highly recommended for you!
NB: Most of the deals are usually out of stock within a few weeks of coming to the Appsumo. So, if you need any lifetime deal, grab it now without any delay.
Also, check out another most amazing tool: AppMySite lifetime deal.