In the ever-evolving world of podcasting, finding the right podcasting host is crucial for success.
With numerous options available, choosing the best platform for your podcast can be overwhelming.
That's where Spreaker (A PodBean alternative) comes in.
In this blog post, I will dive deep into Spreaker, a podcasting host that has been gaining popularity in recent years.
I will explore its features, pricing, user experience, and more to help you determine if Spreaker is the right fit for your podcasting needs in 2023.
Whether you're a seasoned podcaster or just starting out, this comprehensive review will guide you in making an informed decision for your podcasting journey.
Spreaker Review (Overview)
Spreaker is a web-based service for hosting podcasts. It promises to help businesses create, host, publish, and distribute podcasts using various content marketing and campaign management tools.
Here are some of the most important things: the ability to host podcasts, programmatic monetization, a lot of data, premium subscriptions, and a variety of customizable RSS feeds.
Teams that use Spreaker have access to the audio studio. They can record podcasts, save their work on episodes, trim, crop, and edit recordings, and interact with listeners through live podcast recordings.
With this technology, publishers can add ads to podcasts after they have been made. The ads can be made to fit the listeners' demographics, interests, and listening devices.
Managers can also look at podcast data, such as downloads, listeners, likes, followers, sources, geolocation, devices, and evolution. So as a part of the Spreaker review, let's talk about its features.
Make Money and Monetize Your Podcast
All of their paid plans let you use their ways to make money right from the start, so you can start making money as soon as you start your show.
If you already have a collection, you can make money off your old episodes if you move them to Spreaker. They do this by putting ads in at random.
This lets you choose which parts of your episodes will have ads, and they automatically fill those spots using "programmatic advertising." This means that advertisers can pay Spreaker to put ads on podcasts that specific groups of people listen to.
The Spreaker will then place ads in the spots you've given them that make sense for you and your show. You'll get a cut of the money they make because you let them play.
They do most of the work, which makes it easy for you to start making money. You decide how many ads to have and where they play in your episodes.
So, you don't have to find advertisers and negotiate with them, saving you time and trouble and letting you start making money immediately.
You can even make a new episode from one of your old ones if people listen to them.
Since you're only getting a share of the money, you'll make less than you could, but you'll save yourself the time and trouble of finding those opportunities.
Live to Podcast
The other plans let you host more than one show on the same account. This means you don't have to pay for another plan.
If you decide to host another show, all of their plans come with a podcast player that you can embed, and their paid plans let you customize your RSS feed.
Podcast Analytics
Both their free plan and their cheapest paid plan only give you basic stats about your podcast. You'll have to pay for the more expensive tiers if you want more advanced analytics.
They also let you do a private or limited-access show, but only if you have their broadcaster plan or higher.
Thanks to our IAB Tech Lab certification, you can always count on their data to give you a clear picture of how your podcast is doing right now.
You can see how often people listen to your podcast over time with download analytics. The listener analytics goes into more detail by showing how many people listen daily and how many downloads they are responsible for.
This stat makes it easy to see how many of your listeners are listening to more than one episode.
With the like function and statistics, you can find out which pieces of content your community liked. Their source data can tell you what kind of device your listeners are using to listen to you.
This part of your dashboard tells you how your listeners hear: through Spreaker's website and mobile apps, Apple Podcasts, Spotify, iHeartRadio, or the embedded widget on your website.
Plus, it tells which outside platform people listen to your podcast the most. The device analytics tell you precisely what kind of devices your listeners are using to hear you.
Do they use a computer, a tablet, or a phone to listen? In our device dashboard section, you'll find answers to these questions and a full rundown of the operating systems, types of mobile devices, and desktop options.
Spreaker Studio
It is podcast creation and audio editing software that you can download and use to make and edit your whole episode.
Also, it is possible to do this on your phone, tablet, or desktop. Spreaker also has its podcast player app, which is available on both Apple and Android devices.
Podocast Recording App
With the Spreaker app, it's easy to do. With the Spreaker app, you can edit podcasts in various ways.
Before you click "publish," you can change any part or all of your show as many times as you want.
Cut out the pieces you don't like and change how long the show is. With the Live Podcast feature, you can broadcast from anywhere.
Knowing the pros and cons is also a part of the Spreaker review. So let me tell you some pros and cons of Spreaker.
Pros and Cons
Here are some of the pros and cons of Spreaker that help you to understand better, so let's see:
| | |
| --- | --- |
| Pros | Cons |
| Free music library | The plan doesn't allow for many statistics. |
| You can do a live podcast. | The plan limits embed players, and customer service is also limited. |
| Have a free plan and an easy-to-use interface. | Questions about payments. |
| Apple and Android users can download the app. | Features vary from one device to another. |
| It's easy to start a podcast on Spreaker. | The free plan has few features. |
| You can add people to work with. | Not enough help for customers. |
| The IAB has verified their numbers. | |
Spreaker Pricing Plans
It has four plans; Free Speech, Broadcaster, Anchorman, and Publisher.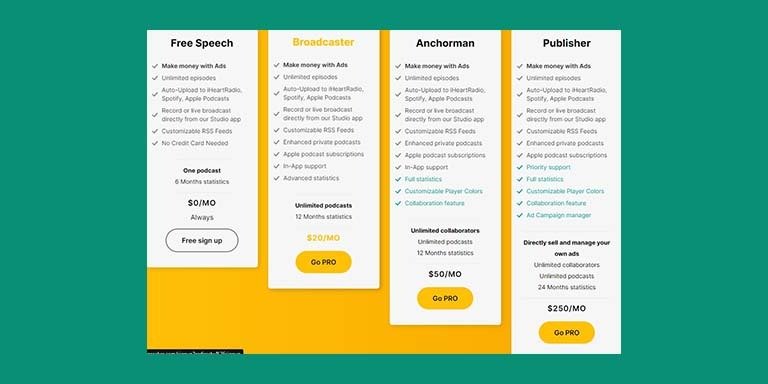 Get started with a regular plan.
Why Should You Use Spreaker?
I like Spreaker because I can host more than one show on the same account. This means you only need one account to host all your shows.
Below, you can see how many times each episode has been downloaded and liked. The number of likes on Spreaker is obvious, but there is also an exciting geolocation feature that will show you where in the world your podcast is most popular.
You can even check out fascinating city statistics. I wish this were a little better, but Spreaker can only get information about the people who use their platform to listen.
Also, you can figure out how to operate inside Spreaker, but it's a great way to see all of your statistics at a glance right here.
You can go back to the last seven days, 30 days, or a custom time if you want. It also gives you this TT SL stat, which is the total amount of time people spend listening to you through Spreaker's website.
This is also a pretty significant number. They have an excellent way to look at all your stats, and if it's important to you, as I know it is, you can download a report as a dot CSV file to send to a client, a partner, or your show host.
These are all excellent features. Many other features like Spreaker also let you monetize your podcasts by default.
I've even gone into the developers' section and made an app so that when I do live videos on YouTube, they are automatically uploaded to Spreaker.
I can do this with Spree cos's API, which I used to make this app. It aims to provide comprehensive coverage, which is precisely what Spreaker offers.
For podcasters needing a "one-stop-shop," it's hard to go better than this since it allows for both power capability and a good set of features.
If you're interested in trying out Spreaker, you may sign up for a free trial, but it has certain restrictions.
You can use Spreaker at any point in the podcasting process because it provides a tool. Though it has "360 appeal," it may not be the perfect venue for every podcaster, as I've discussed.
Final Thoughts
If you're interested in live podcasting and easy monetization, it's a great podcast hosting option. From recording to sharing, Spreaker offers a comprehensive solution.
Spreaker is an excellent option for podcasters seeking a "one-stop-shop" service. However, as we said before, Spreaker's basic membership packages don't provide as much core functionality and are limited by upload and storage constraints compared to other comparable podcast hosting services.
New podcasters or those on a restricted budget will likely find better value elsewhere. Professional podcasters may also be annoyed by the absence of integrated features (which are addressed by ad hoc integrations with third-party programs).
Dedicated professionals might be better off going elsewhere, especially given the inability to video podcast or remote record in full HD.
Still, it bears repeating that Spreaker is a trustworthy all-in-one solution for podcasting, particularly at the higher tiers of the service's pricing tiers.
Spreaker is ideal for podcasters in the middle who have a moderate budget but still want some of the conveniences that top-tier services provide.